Tales of Volatility and Revelation: The First horseman and the "bear" epidemic
After a few months of silence, volatility returned across markets. Heavy torments marked the stocks and commodities prices amid the COVID-19 outbreak. Cryptocurrencies showed that they are not a safe harbour in distressed conditions and dipped to a six month low. The coronavirus epidemic showed how fragile is the current economic environment.
The first horseman of the Revelation may not bring a disease for the humankind, but for sure is spreading the bearish plague across global markets. We all had a flashback from 2008, when all markets went South, no diversification functions and no fundamental value remained in place. Cryptocurrencies, made no exception this time and follow the trend imposed by the fiat money markets, thereby raising a big question mark on its destiny.
In this turmoil, the world's 500 wealthiest people including Bezos, Arnault and Zuckerberg, lost a combined 139 billion USD; just a drop in the ocean. The Conqueror riding a white horse shows that there are no chosen few and contagion is not an issue only for coronavirus but also for world's economy.
I watched as the Lamb opened the first of the seven seals. Then I heard one of the four living creatures say in a voice like thunder, "Come and see!" I looked, and there before me was a white horse! Its rider held a bow, and he was given a crown, and he rode out as a conqueror bent on conquest (Revelation 6:1-2)

Market overview
Dying is not new, but living is not new either, wrote Esenin in his last poem. Bitcoin died and came back to life several times over the past years. However, over the past week Bitcoin plunged concomitantly with the leading financial markets, including stocks and commodities. This event gives a piece of crucial information about the origin of the liquidity on the crypto-currencies market.
Both institutional and private investors started to use Bitcoin as diversification support. When the coronavirus threat became more severe than it was believed, they pulled-off and cryptos followed the same pattern as the other market. Therefore, in every bad thing, there is a good sign. Bitcoin price is lower than it should be, but it became a serious investment underlying and is not anymore just a topic of mockery in Mayfair's hedge funds offices.
Coin of the week
Kyber Network
Amid a global environment where all coins are moving fatly into negative territory, few Altcoins seem to be very resilient. Amongst the contrarians, we noticed Kyber Network's KNC. According to Kyber Network, KNC is an Ethereum token used for paying fees on the Kyber Network, a protocol that aims to make swapping digital assets and cryptocurrencies efficient and straightforward.
The Kyber protocol aggregates liquidity from a wide range of reserves, powering instant and secure token exchange in any decentralized application. While it is not very clear what Kyber Networks does, its coin increased significantly last week on thin liquidity. Market turmoil is the best moment to pump a coin and to flash it to potential investors that may want to recover their losses incurred from the leading coins.
Meanwhile in the crypto-world
Steven Seagal
Steven Seagal has been charged by the SEC for his role in promoting a 2018 ICO. The martial artist did not allegedly disclose payments 250,000 USD in cash and 750,000 USD worth of B2G tokens received in return for promoting the token launched by Bitcoiin2Gen (B2G). B2G was unsuspected of being a Multi-level marketing pyramid scheme. (Source: Coindesk.com)
Peter Thiel is a bitcoin believer
Facebook's historical shareholder invested 50 million USD in Layer1, a bitcoin mining start-up located in Texas. Layer1 started its mining operations two weeks ago at its facility based in western Texas. The company claims to access the cheapest electricity and targets a share of 30% of Bitcoin's hash power by 2022.
Bitcoin ETF
Bitcoin ETF saw its perspectives hammered again by the US regulator. The SEC rejected Wilshire Phoenix's proposal for a bitcoin-based exchange-traded fund. Wilshire Phoenix is a firm based in New York, founded in 207 by William Herrmann, an ex-BNY Mellon executive. The motivation behind SEC's decision was the fact that Bitcoin is not resilient to market abuses.
Market outlook
After a tormented week, some technical purchase could occur over the next week. Thus, the Bitcoin may find a support level at 8,500 USD. In the case the spread of the coronavirus epidemic is contained, there are chances that Bitcoin returns into positive territory.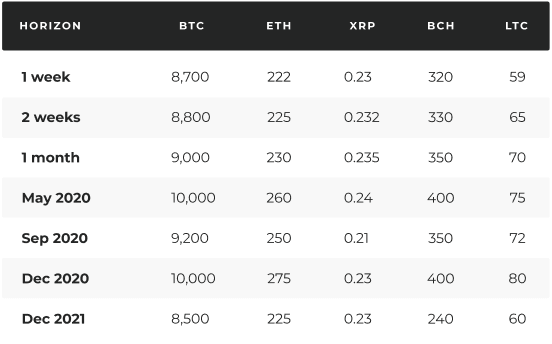 General Disclaimer
The information and data published in this research were prepared by the market research department of Darqube Ltd. Publications and reports of our research department are provided for information purposes only. Market data and figures are indicative and Darqube Ltd does not trade any financial instrument or offer investment recommendations and decision of any type. The information and analysis contained in this report has been prepared from sources that our research department believes to be objective, transparent and robust.
Distributed by Profit.com, United Kingdom.
All images and logos are trademarks of their respective owners.
Sign In to Profit.com
Don't have an account?
Sign Up