Two years into the pandemic people face more uncertainty than ever amid a never-ending sanitary crisis. Investors are also facing uncertainty, because going "back to normality" seems to be unachievable in the short and medium term. The new Omicron variant hammered the last nail in the hope woodbox. 2022 will not mark the exit from the pandemic. Moreover, it may bring new versions of COVID. What will the Omega version look like?
Other than inflation, lack of workforce and shortage in supplies, the global economy is not doing so badly after two years of pandemic, with repeated lockdowns, travel restrictions, social distancing and increased health problems in the general population. The stock market is doing just fine reaching all-time highs and leading currencies are holding steady despite the massive increase in the monetary mass.
So, what will it take to see hell unleashed?
Such a scenario may never occur. It is the key narrative of central banks and institutional investors. They unanimously believe that the pandemic can be sorted out with massive turmoil. But, what if a new variant (let's call it the Omega variant) will unleash hell?
Both central bankers and investors have learned since the credit crunch to play with quantitative easing and market prices. But, money cannot fix everything. If the virus becomes more dangerous, essential services supporting day to day life may be disrupted. And in this case money will not help.
Omicron is spreading at a rate we have not seen with any previous variant. We're concerned that people are dismissing Omicron as mild. [...] Certain features of omicron, including its global spread and large number of mutations, suggest it could have a major impact on the course of the pandemic. Tedros Adhanom Ghebreyesus, Director-General of the World Health Organization
Market overview
The Dow Jones went back to the bearish pattern triggered in November by the spread of the new Omicron variant. Markets are preparing for higher volatility and investors have shorter risk horizons. The Volatility Index (VIX) switched to a new regime characterized by a higher variance and a sharp rise in skewness.
Bitcoin, the world's leading cryptocurrency, continued to navigate into murky waters with prices below 50,000 USD. It is now clear that the main Bitcoin holders see the coin as just another risky asset and not as an inflation hedge. Gold prices found a small positive trend, amid fears of structural inflation resulting from a foreseeable low impact tapering.
Focus:
Albemarle Corporation
Albemarle is a leading chemical manufacturing company and one of the largest providers of lithium for EV producers. The North Carolina-based firm is part of an industry holding a crucial role in the shift from fossil high carbon energy sources. Nevertheless, Albemarle' share goes through an extended bearish pattern. Two options are on the table. On the one hand the firm may be strongly undervalued. On the other hand investors may not see any upside from this industry.

Cryptocurrencies:
DOGE
Dogecoins made its reputation as Elon Musk's pet cryptocurrency. When Elon tweets something or makes an announcement about Doge, a significant price movement occurs in the market. In other circumstances, such actions will be classified as market manipulation or market abuse. But in the case of Elon Almighty, watchdogs close their eyes.
Such an event took place last week, when Tesla, the world's leading EV manufacturer, announced that they will accept payments in Dogecoin. Doge's price soared in only a few hours, before losing ground and moving into negative territory. We have already seen this scenario with Doge and with many other coins, that do nothing else than growing the ranks of meme investment.
Forex:
Euro-Dollar
The perspective of a significant market contraction in 2022 pushes investors to reconsider cash reserves, as an alternative to financial instruments threatened by volatility. Since the Fed announced its tapering strategy and rise in interest rates, the US dollar gained traction compared to the Euro. In conclusion, the market does perceive the Eurozone as riskier and one could expect to see the dollar going towards parity to the EU's currency.
Focus:
Novavax
The World Health Organization issued an emergency use listing for Novavax's vaccine, commercialised as Covavax (NVX-CoV2373). The Maryland-based biotech was a late starter in the race for issuing the first generation of COVID vaccines. Novovaax's share soared in December amid solid prospects for full recognition of the new vaccine. The old vaccines seem to be powerless against the new Omicron vaccine, and new solutions are needed. Governments will not switch from their vaccinal paradigm. Thus, countries with low vaccination rates as well as countries hit by the new wave will acquire supplemental solutions based on different technologies.
Market outlook
The Dow Jones Index erased the gains from the previous week ending the week just below 35,400. The new Omicron variant and the anticipated tapering of bond repurchase can trigger at any moment the beginning of a structural market decline.
Bitcoin ended the week near USD 47,000, thereby continuing its decline. While the market swings will continue, technical selloffs could bring the leading cryptocurrency below USD 46,000.
The Gold ounce ended the week on a positive note closing near USD 1,780. The foreseeable market contraction and the inflationary context are good arguments for believing that gold prices could soar in the near future.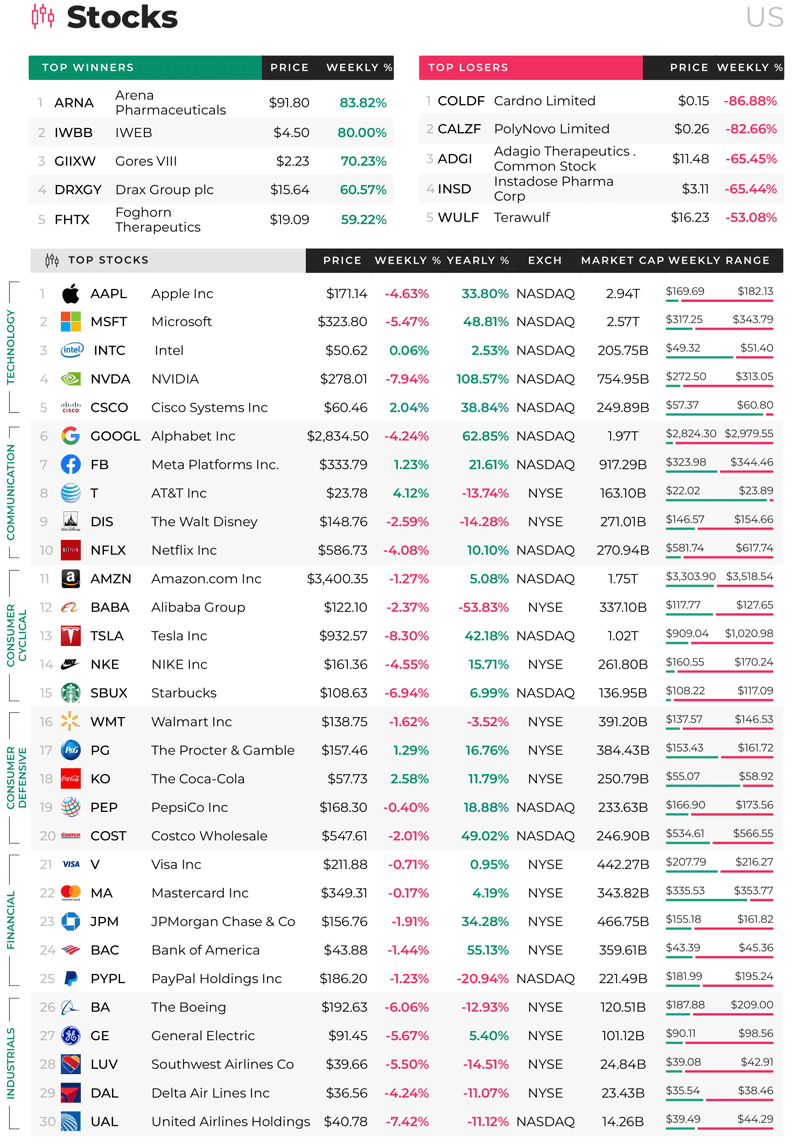 General Disclaimer
The information and data published in this research were prepared by the market research department of Darqube Ltd. Publications and reports of our research department are provided for information purposes only. Market data and figures are indicative and Darqube Ltd does not trade any financial instrument or offer investment recommendations and decision of any type. The information and analysis contained in this report has been prepared from sources that our research department believes to be objective, transparent and robust.
Distributed by Profit.com, United Kingdom.
All images and logos are trademarks of their respective owners.
Sign In to Profit.com
Don't have an account?
Sign Up