Is this the end of crypto?
Bitcoin did not need investors, it needed believers. Most cryptocurrency holders were in the game for speculative reasons and a very few for their deep beliefs that blockchain and decentralized currency can change the world. Therefore, Bitcoin has become over time just another speculative asset class, it's only value being the growing price in fiat currency and not its growing capacity to replace it. Is this the end of Bitcoin?
While predicting the total collapse of the leading cryptocurrency would be a risky bet, it is sure that is the end of a cycle for Bitcoin. It is not the first time Bitcoin goes through agony. The Mtgox episode and the 2017 bubble were also turning points when many detractors announced Bitcoin's swansong.
But, Musk's tweets came at a moment when cryptocurrencies had the potential to outgrow the classic financial investments. Moreover, Chinese regulators have tightened restrictions that ban financial institutions and payment companies from providing services related to cryptocurrencies, judging that cryptocurrencies are not supported by real value. Beijing's attitude is the real threat to Bitcoin. The new ban leaves most Bitcoin miners on a hiatus and may deter them from continuing mining. It should be underlined that Chinese miners represent the majority of resources dedicated to decrypting the SHA-256 puzzle. Without them, Bitcoin's future is very uncertain.
The key learning from last week is that the leading global decentralised coin may be more centralised than we thought. Following Satoshi's original paper, Bitcoin mining was aimed to be homogeneously and ubiquitously distributed amongst a large number of miners. To have a really decentralized system, no system, country or consortium was supposed to have the upper hand.
Blockchain's initial aim was to be distributed and not partially concentrated. Bitcoin is paying for the sins of its pioneers who thought about gains measured in fiat currency and not in terms of crypto.
A lot more people own crypto. Crypto has seeped into pockets all over our society and you had a confluence of events — a combination of tax day, Elon Musk tweets, whatnot, where you started breaking down the positivity in the price action, and now we've got a liquidation event. Mike Novogratz, ex-hedge fund manager and major cryptocurrency investor
Market overview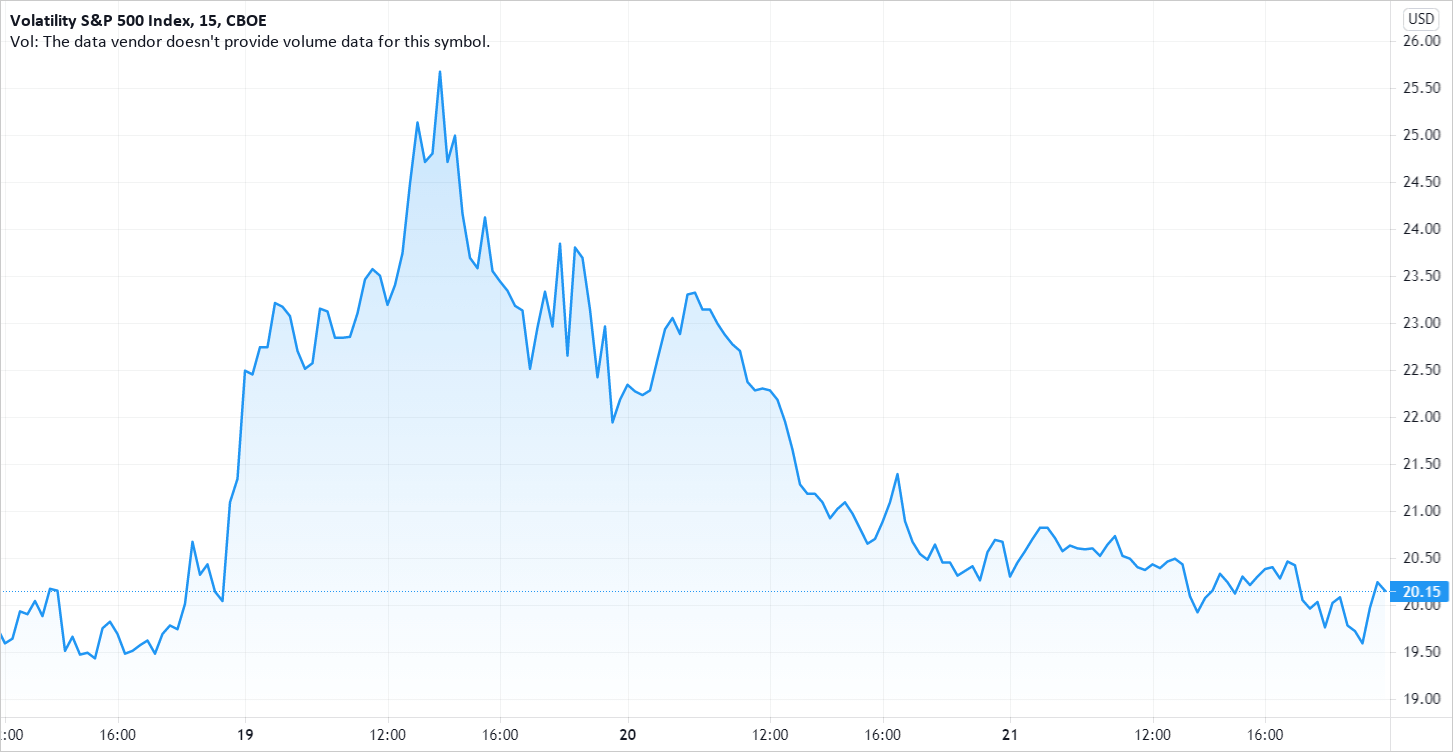 US jobless claims announced on Thursday dropped more than expected by analysts to 444,000 thereby setting a new low since the pandemic outbreak. The resultant market rally diminished the market correction inflicted earlier this week and postponed slightly the perspective of a significant bear.
The volatility index retreated significantly from 25.5 to a level near 20, underlying that investors are still keeping calm, despite signs of a foreseeable weak market.
Bitcoin's collapse was the big event of the week and the crypto-investors that cut their positions may replace their funds in other markets. Therefore, we can expect new development in the FX and precious metals markets.
Focus:
Goldman Sachs
Goldman Sachs' management asked their staff to be back in offices by mid-June. The leading investment bank may be overly optimistic about the reopening. And they could be right because Goldman's share is doing better than other stocks amid an overall bearish environment. The collapse of the cryptocurrencies market is a strong argument that the curtain will not fall on the banking sector and fiat money will still be the fuel of the financial industry.

Focus:
TESLA
Despite Elon Musk's attempt to move investors' attention away from his main company and to dump the cryptocurrencies market, Tesla is losing momentum. The world's biggest vehicle manufacturer in terms of market capitalisation announced a delivery event for their new Model S Plaid on June 3 at the company's factory in Fremont, California.
Customers expected Model S Plaid deliveries to begin early this year after the CEO announced they were already in production in January on an earnings call. The deliveries were delayed, but this did not stop the Tesla investing frenzy. Since the end of April, Tesla shares engaged in a downward spiral and Musk's tweets about Bitcoin were not helpful at all.
Tesla is definitely overbought, and only time will tell about the size of the foreseeable market correction.
Cryptocurrencies:
Doge
Despite being backed initially by Bitcoin's main detractor, Dogecoin's price dipped by more than 50% over the past 10 days. Bitcoin's price is still the main driver in the cryptocurrencies market and other than stable coins, all altcoins will share the same fate as the leading coin. In light of the recent events, Dogecoin gathers all the ingredients of a recipe for pump and dump.
The effervescence around Dogecoin as the new rising star in the crypto universe was nothing more than a storm in a cup -of tea. The likelihood of having new headlines about Doge in the following months is very low.

Market outlook
The Dow Jones ended the week near 34,200, after going as low as 33,670. We can expect new market corrections over the next week amid an overall bearish market sentiment. Musk's tweets triggered a massive rollercoaster that led to the collapse of Bitcoin prices below 31,000 USD, but the leading cryptocurrency managed to stabilise its trajectory around the 37,000 USD mark.
As predicted the Gold ounce ended the week into positive territory above the 1,880 level and has the potential to gain new long-term momentum.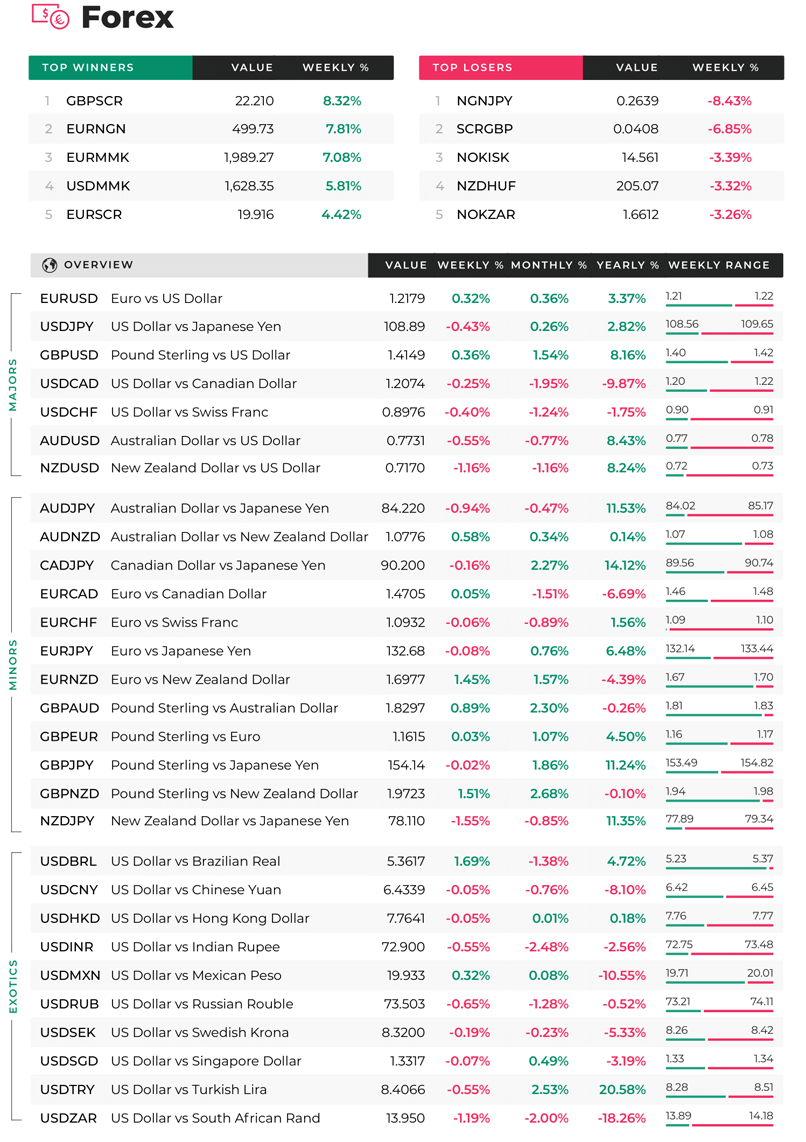 General Disclaimer
The information and data published in this research were prepared by the market research department of Darqube Ltd. Publications and reports of our research department are provided for information purposes only. Market data and figures are indicative and Darqube Ltd does not trade any financial instrument or offer investment recommendations and decision of any type. The information and analysis contained in this report has been prepared from sources that our research department believes to be objective, transparent and robust.
Distributed by Profit.com, United Kingdom.
All images and logos are trademarks of their respective owners.
Sign In to Profit.com
Don't have an account?
Sign Up