Last week was certainly an interesting one, with the head of the International Monetary Fund (IMF) deciding to start the new year with a gloomy prediction. Amazon, meanwhile, joined other tech giants in announcing massive job cuts as the tech-industry slump deepens. In macro news, German and French inflation slowed down more than expected in December (that will definitely be welcome news for the European Central Bank). Elon Musk's troubles continue, with Tesla's fourth-quarter deliveries coming up short of analysts' estimates. And finally, the new year brought some much-needed good news for energy users: a warmer-than-expected start to winter across large parts of the world is sending natural gas prices significantly lower. Find out more in this week's review.
Macro
A third of the global economy will be hit by recession this year, according to the IMF, with the institution warning that the world faces a tougher year in 2023 than the previous one. The main reasoning behind the dire forecast is that the three big economies – the US, EU, and China – are all slowing down at the same time.
‍Regarding China, the country's annual growth is likely to be at or below global growth for the first time in 40 years, according to the IMF. That means China could end up dragging down worldwide economic activity this year rather than propelling it. Case in point: data published last Saturday showed that China's abrupt reversal of its Covid Zero policy pushed economic activity in December to the slowest pace since February 2020, as the virus swept through major cities and prompted people to stay home and businesses to shut.
Regarding the EU, the IMF reckons half of the bloc will be in recession this year due to the ongoing war in Ukraine. Finally, the US is likely to escape the worst of the downturn thanks in part to its strong labor market. In the IMF chief's own words: "the US may avoid a recession because its unemployment is so low. If that resilience holds in 2023, the US would help the world to get through a very difficult year".
Economists don't share the IMF's optimism: they reckon the Fed will push interest rates above 5% by March 2023 in moves that'll likely lead to a US and global recession. In fact, a survey of 40 economists conducted by Bloomberg back in October found that three-quarters of them expect the US to enter recession over the next two years due to the risk of the Fed over-tightening – i.e. the risk that the central bank will raise rates too much and cause unnecessary economic pain as opposed to not raising enough and failing to contain inflation.
Moving on, the eurozone's two biggest economies – Germany and France – received some good macro news last week, with the rate of inflation in both countries slowing down more than expected in December. That will be welcome news for the European Central Bank, which last year raised interest rates at an unprecedented pace to tackle record levels of eurozone inflation.
Consumer prices in Germany were 9.6% higher in December than a year ago – the weakest increase since August and much lower than the 10.7% economists were expecting. The slowdown was partly because of measures by the government to shield consumers from high gas prices during the month, offering a temporary breather to the country's cost-of-living crisis. But Germany's central bank has cautioned against misinterpreting single data reports as a shift in trend, predicting consumer inflation will remain above 7% in 2023.
French inflation, meanwhile, unexpectedly slowed last month. Consumer prices in France rose 6.7% in December from a year ago after record increases of 7.1% in October and November. That came as a relief considering that economists were expecting inflation to accelerate to 7.3% in the final month of 2022, in part due to the government beginning to phase out fuel discounts.
Stocks
Tesla announced at the start of last week that it handed 405,278 vehicles to customers last quarter, missing analyst estimates for 420,760 deliveries despite taking the unusual step of offering big incentives in its two biggest markets, China and the US. While the total was a quarterly record for Tesla, the firm opened two new assembly plants last year and still came up short on its goal to expand deliveries by 50% – the average annual growth rate the company has said it expects to achieve over multiple years.
Tesla's quarterly delivery figures are widely seen as a barometer for EV demand generally, so its disappointing update could reinforce demand concerns that played a role in sending the EV-maker's stock down 65% last year. Investors are worried that higher interest rates, an economic slowdown, and rising EV competition could crimp demand for Tesla's models in 2023. Another data point fueling those demand concerns is that Tesla's production outpaced deliveries for the third straight quarter: the company produced 439,701 vehicles in the fourth quarter, exceeding deliveries by 34,423 units.
In other news, Amazon announced last week that it's laying off more than 18,000 employees – the biggest reduction in its history. The cuts, which represent about 1% of Amazon's employees, will be concentrated in the firm's corporate ranks, mostly Amazon's retail division and human resources functions (e.g. recruiting). It joins other tech giants in making major cuts as the tech-industry slump deepens. Salesforce, for example, also announced job cuts last week with the plans to eliminate about 10% of its workforce. The latest moves come after the tech industry announced more than 80,000 job cuts last year, according to consulting firm Challenger, Gray & Christmas.
Commodities
The new year brought some much-needed good news for energy users. A warmer-than-expected start to winter across large parts of the world is easing fears of a natural gas crisis that had been predicted to trigger power outages and pressure energy bills. Forecasts at the start of last week pointed to temperatures above seasonal norms for most of Europe for two weeks, while China (the world's biggest gas importer) and the US expect better weather through mid-January. Japan may also start to see a spike in temperatures around mid-January.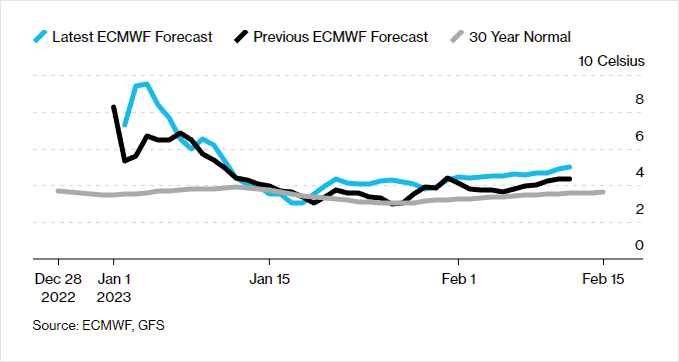 Natural gas prices around the world are plummeting on reduced fuel consumption and the weaker outlook, with US contracts tumbling in their first trading session of 2023. Last Monday also saw European gas prices briefly touch their lowest level since the outbreak of war in Ukraine. Gas storage across Europe is 84% full, far above the five-year seasonal norm of 70%, according to Gas Infrastructure Europe. Helping matters is the return of stronger winds across parts of the region. Germany, for example, produced a near-record amount of wind power last Wednesday.
This week
The fourth-quarter earnings season officially kicks off in the US, with four major banks scheduled to announce their latest earnings. The economic calendar is quite light, but there are still some key releases happening this week, namely US CPI.
Monday: Eurozone unemployment rate (November)
Tuesday: French and Spanish industrial production (November)
Wednesday: Italian retail sales (November)
Thursday: US inflation (December)
Friday: UK GDP (November). Earnings: Bank of America, Citigroup, JPMorgan Chase, Wells Fargo.
General Disclaimer
The information and data published in this research were prepared by the market research department of Darqube Ltd. Publications and reports of our research department are provided for information purposes only. Market data and figures are indicative and Darqube Ltd does not trade any financial instrument or offer investment recommendations and decision of any type. The information and analysis contained in this report has been prepared from sources that our research department believes to be objective, transparent and robust.
Distributed by Profit.com, United Kingdom.
All images and logos are trademarks of their respective owners.
Sign In to Profit.com
Don't have an account?
Sign Up