In this week's review we look at some of the upside risks to inflation, including China's economic reopening and the US's red-hot labor market. These risks could cause inflation to remain elevated and raise the possibility that the Fed will have to increase interest rates to a higher peak than previously thought – and keep them there for longer than previously expected. And that was the message Fed chair Jerome Powell was trying to send out last week. Elsewhere, the US securities regulator is cracking down on crypto staking in a move that sent Coinbase's shares plummeting. Finally, the AI war is officially on after ChatGPT's virality rang through the industry like a warning shot and sparked a race among tech firms to become leaders in the space. Last week saw Google, Microsoft, and Baidu all make some big AI announcements – but unfortunately for Google, its unveiling was a disaster. Find out more in this week's review.
Macro
China's earlier-than-expected abandonment of its Covid restrictions and subsequent economic reopening will provide a welcome boost to global growth. But it'll also have an unwelcome side effect: fueling global inflation at a time when central banks all over the world are racing to bring it back under control.
Bloomberg Economics, for example, forecasts an acceleration in China's economic growth rate from 3% in 2022 to 5.8% in 2023. That could lift global inflation by close to a full percentage point in the final quarter of 2023, according to Bloomberg, which modeled the relations between China's growth, energy prices, and global inflation. If China's economy outperforms, with growth surging to 6.7% this year, the global inflation boost would be closer to two percentage points.
China's reopening isn't the only upside risk to inflation this year, particularly in the US. See, despite some headline-grabbing Big Tech layoffs, the US job market is still showing a ton of strength. The labor market report earlier this month showed the US economy added a whopping 517,000 new jobs in January – more than twice as many as the month before and shattering economists' estimates of 187,000. What's more, the unemployment rate fell to a 53-year low. The strong labor market has bolstered wages and, after more than two years of Americans' pay not keeping up with rising consumer prices, real income – that is, inflation-adjusted earnings – are finally rising again.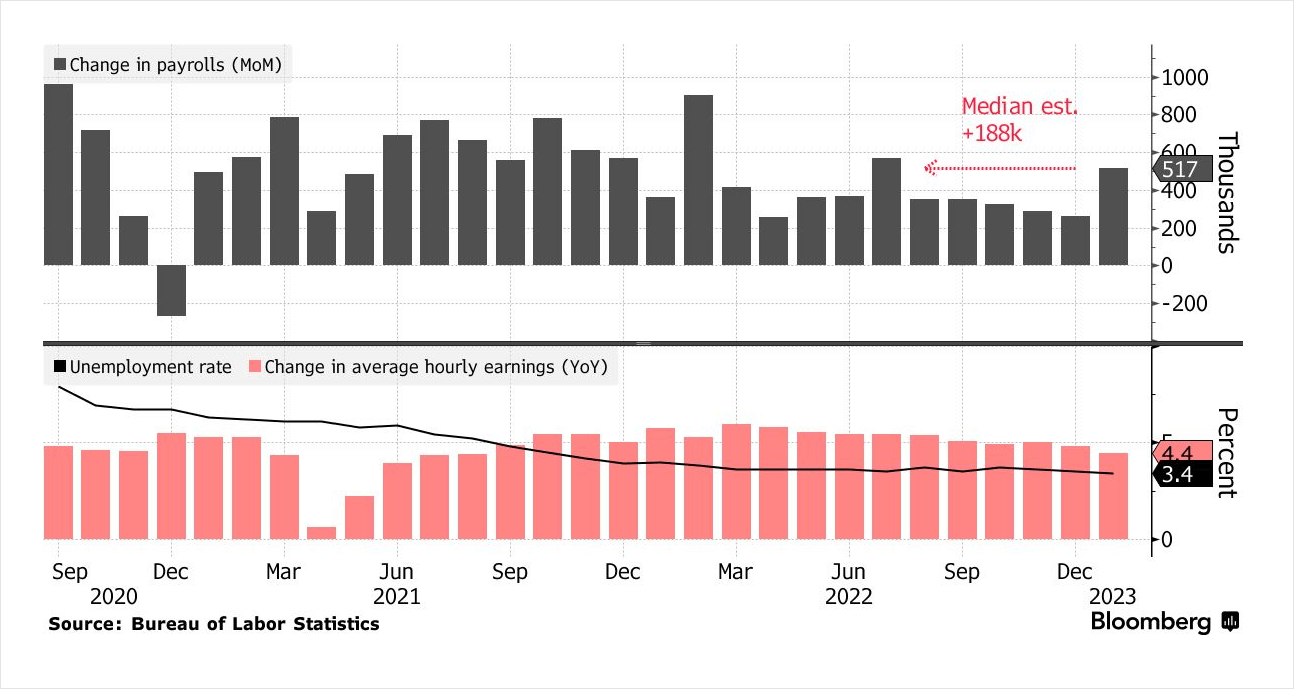 But here's the catch: if people's income is outpacing inflation, then that could boost spending and lead to higher consumer prices. This only gets worse as companies raise the cost of their goods and services to offset higher wages. That increased inflation, in turn, pushes employees to demand more income – something they can more easily pull off in a red-hot labor market. This loop leads to higher and higher (i.e. spiraling) inflation.
Now, in the current macro environment where we're already starting off from a high base (i.e. inflation is already quite elevated), perhaps we don't get the extreme scenario of hyperinflation – but these dynamics could push inflation to remain stubbornly high. That raises the possibility that the Fed will have to increase interest rates to a higher peak than previously thought – and keep them there for longer than previously expected.
In fact, that's the exact message Fed chair Jerome Powell is trying to hammer. Speaking at an event last week, Powell said interest rates need to keep rising to quash inflation. In particular, he floated the idea that borrowing costs may reach a higher peak than traders and policymakers anticipate due to the red-hot labor market. His remarks suggest that rates are probably set to go higher than the 5.1% peak forecast Fed officials made back in December.
Stocks
Interest in AI has skyrocketed ever since ChatGPT took the world by storm just a couple of months ago – and Big Tech is looking to capitalize on the trend by betting big on the technology. So much so is apparent from the sector's latest earnings calls, which have seen a huge spike in mentions of "AI" and related terms even as talk of cost-cutting dominated. That's according to an analysis by Bloomberg of the earnings transcripts from 15 of the biggest software and semiconductor companies, with many firms telling investors that AI is a huge opportunity for growth and that they're pledging hefty investments accordingly.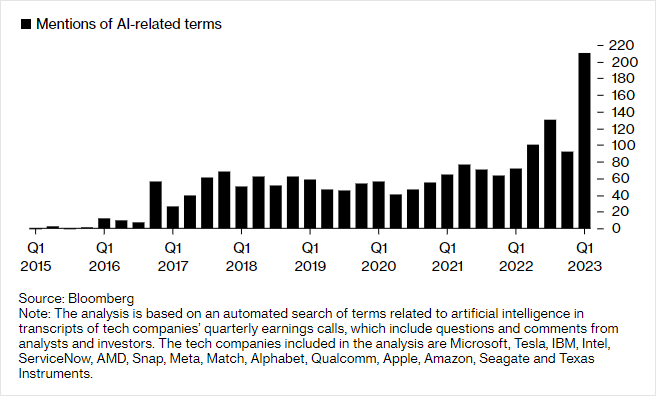 See, while most of Big Tech has had AI products in the works for years, ChatGPT's virality rang through the industry like a warning shot and sparked a race among tech firms to become leaders in the space. That's because if there was one thing clear from the latest earnings calls, it's that every firm wants to become an AI leader – or thinks it already is. Here's a sample of what's been said over the last few weeks.
"More than six years ago, I first spoke about Google being an AI-first company. Since then, we've been a leader in developing AI" – Alphabet CEO Sundar Pichai
"We're going to lead in the AI era, knowing that maximum enterprise value gets created during platform shifts" – Microsoft CEO Satya Nadella
"One of my goals for Meta is to build on our research to become a leader in generative AI in addition to our leading work in recommendation AI" – Meta CEO Mark Zuckerberg
"Tesla is really one of the world's leading AI companies. This is kind of a big deal, with AI on the software side and on the hardware side" – Tesla CEO Elon Musk
"Over the next several years, one of our largest growth opportunities is in AI, which is in the early stages of transforming virtually every industry service and product" – AMD CEO Lisa Su
In fact, the AI war heated up intensely last week with a big focus on the type of tech that underpins OpenAI's ChatGPT: generative AI, which can generate new content from digital troves of text, photos, and art. First, Baidu announced it's rolling out its answer to ChatGPT next month. China's largest search engine company plans to initially embed its AI bot into its main search services, allowing users to get conversation-style search results much like ChatGPT. Then Microsoft, which has invested billions in OpenAI, unveiled a new version of its Bing search engine and Edge browser that incorporate OpenAI's technology. Feeling the heat, Google revealed plans to launch an AI-powered chatbot called Bard in a bid to protect its flagship search business, which drives most of its revenue.
Unfortunately for Google, its unveiling of Bard was a disaster: the AI chatbot glitched and gave inaccurate answers during a live demo on Wednesday. That did little to reassure investors who are getting increasingly worried that Google is losing ground in the race for the future of internet search. The botched demo sent shares in Alphabet (Google's parent) down almost 8% on Wednesday, wiping billions of dollars off its market value. That might seem extreme, but it shows how high the stakes are in the AI war.
Crypto
Shares in Coinbase dropped 14% last Thursday – their biggest fall in more than 6 months – as the US Securities And Exchange Commission (SEC) cracked down on crypto staking. Quick recap: staking allows investors to earn yield on their coins by locking them up to help certain blockchains (like Ethereum) function. Last week, rival crypto exchange Kraken agreed to pay $30 million to settle SEC allegations that it broke the agency's rules with its crypto staking products. More specifically, the SEC alleged that the firm's staking service was an illegal sale of securities. And as part of the settlement, Kraken will have to discontinue its staking products in the US. Investors are now worried that other exchanges might be forced to do the same even though Coinbase said that the firm's staking services are fundamentally different and are not securities. Time will tell how things play out…
This week
Monday: Chinese trade balance (January). Earnings: Palantir Technologies.
Tuesday: Japanese GDP (Q4), US inflation (January), UK labor market report (December). Earnings: Coca-Cola, Airbnb.
Wednesday: UK inflation (January), US retail sales (January). Earnings: Shopify, Cisco Systems.
Thursday: US housing starts (January). Earnings: Applied Materials.
Friday: UK retail sales (January).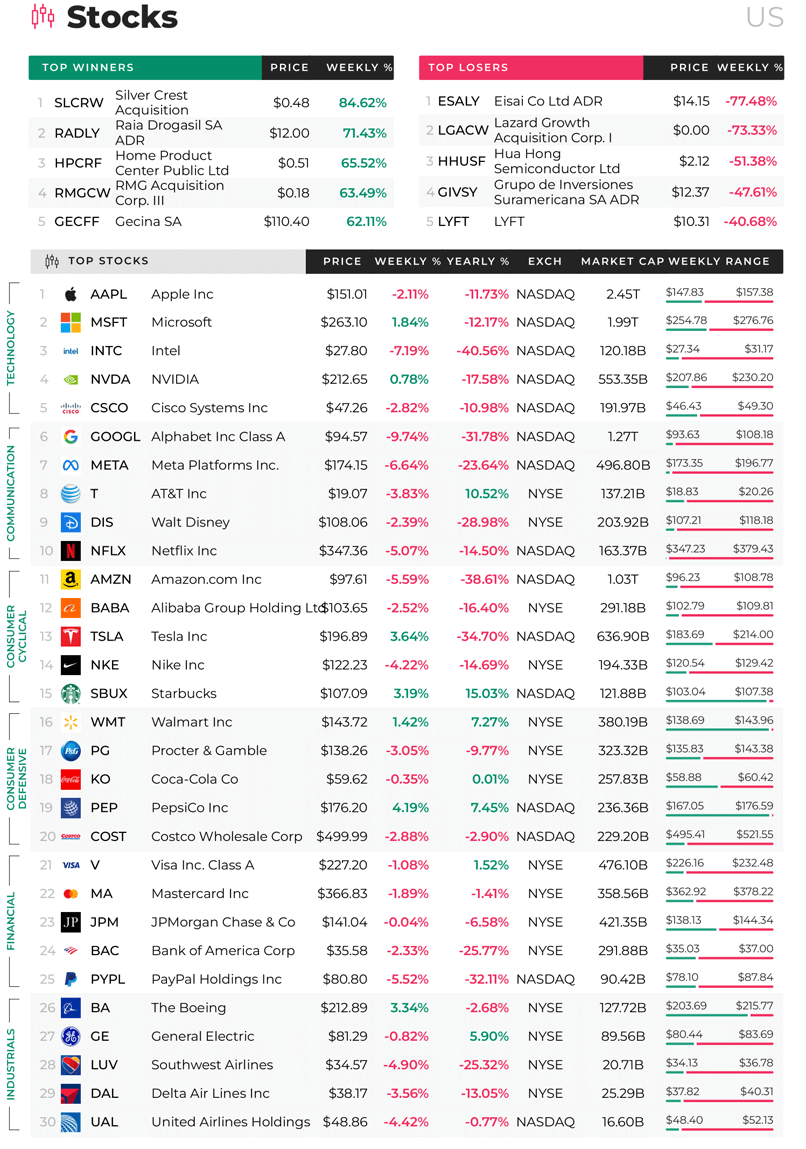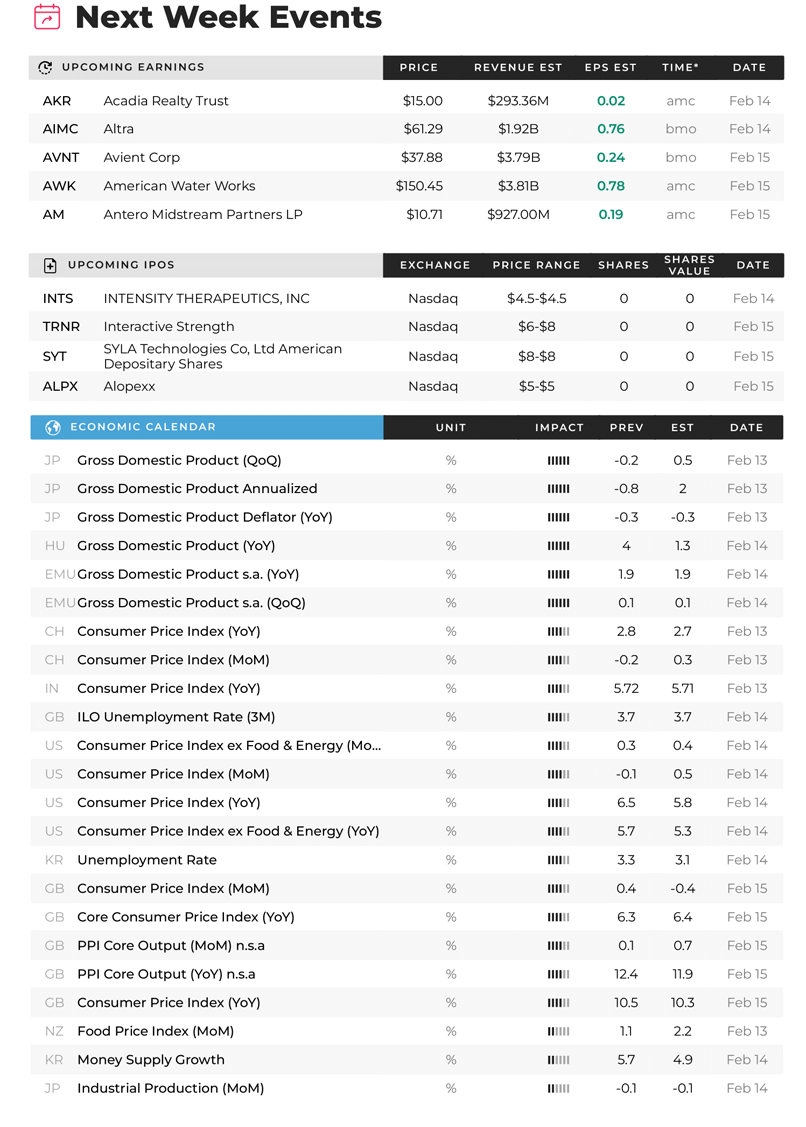 General Disclaimer
The information and data published in this research were prepared by the market research department of Darqube Ltd. Publications and reports of our research department are provided for information purposes only. Market data and figures are indicative and Darqube Ltd does not trade any financial instrument or offer investment recommendations and decision of any type. The information and analysis contained in this report has been prepared from sources that our research department believes to be objective, transparent and robust.
Distributed by Profit.com, United Kingdom.
All images and logos are trademarks of their respective owners.
Sign In to Profit.com
Don't have an account?
Sign Up