One of the biggest news of the week – and one that seriously shook the entire crypto market – is the implosion of TerraUSD. The stablecoin lost its peg and wiped out virtually the entire market value of LUNA – a blue-chip DeFi crypto that was once among the top ten biggest coins in the world. UST's woes also exacerbated sell-offs in other corners of the crypto market. What happened exactly, and what important lessons can crypto investors take away from the drama?
Macro
Data out on Wednesday showed China's factory and consumer prices rose faster than expected in April, as the country's strict Covid lockdowns hit supply chains and pushed people to stockpile food. The producer price index (PPI), which reflects the prices that factories charge wholesalers for products, rose 8% from a year earlier. The consumer price index (CPI), meanwhile, rose by 2.1% – an acceleration from March's 1.5% gain – on the back of higher food prices. With PPI trending higher than CPI for over a year now, corporate profit margins in China will most likely continue to be squeezed.
Data out on the same day showed US inflation came in higher than expected. Consumer prices increased 8.3% in April. While that was a deceleration from the previous month's 8.5%, it was higher than the 8.1% economists were forecasting and remains close to its highest level in more than 40 years. Rising prices at the pump and in grocery stores were the usual culprits, but even core inflation – which removes volatile energy and food prices – came in higher than expected. All in all, the data reinforced traders' views that the Fed will have to stick to its aggressive rate hike plans to tame inflation, which caused a sell-off in stocks and bonds.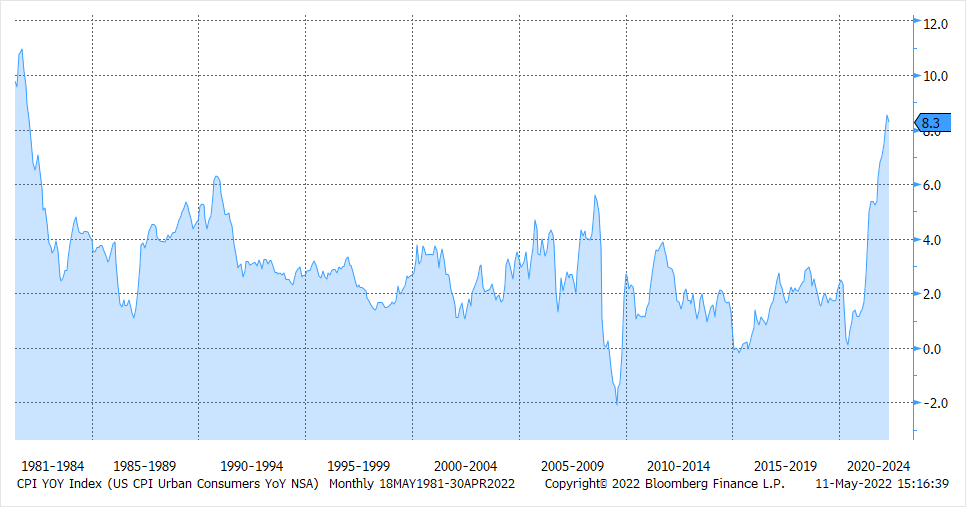 Stocks
Here's a fun one for this week: the day-trading army of amateur investors that emerged during lockdown have now given back all of their once-impressive gains, according to new analysis by Morgan Stanley. Armed with zero-commission brokerage accounts, a lot of these amateur investors started trading right after Covid to pass the time during lockdown, and so their only investing experience was the Fed-fueled market that drove stock prices to dizzying heights. But as the Fed embarks on its most aggressive rate hiking campaign in decades, stock prices have come back down to earth – especially the prices of the speculative "meme" stocks that retail investors had crowded into.
The stock market rout has caught not only retail traders off guard, but Wall Street too. Research analysts at investment banks are slashing price targets for S&P 500 stocks at the fastest pace since the pandemic crash in 2020. Altogether, the S&P 500's aggregate price target has fallen for 11 weeks in a row, the longest stretch of declines in a decade. At first glance, all that pessimism is pretty bad. But contrarian investors might interpret the deep negative sentiment as a sign that a market bottom might be near.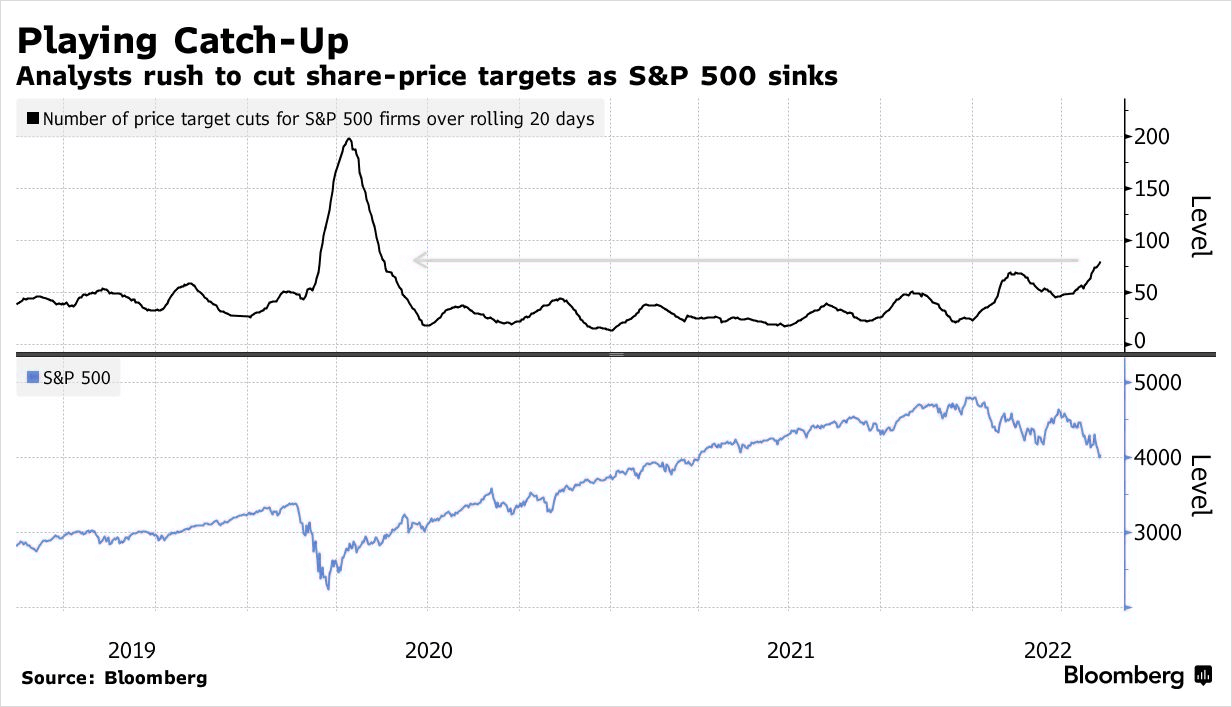 Crypto
The biggest news of the week in the crypto world was the implosion of the stablecoin TerraUSD. Unlike conventional stablecoins backed by cash held in reserve, TerraUSD (or "UST") is an algorithmic stablecoin that attempts to hold its value through a combination of code, active treasury management, and arbitrageurs' actions.
Algorithmic stablecoins are valuable because they are highly scalable, have improved capital efficiency, and are truly decentralized. On that last point: a conventional stablecoin backed by cash has to hold those reserves with a centralized party (a bank), but algorithmic stablecoins don't rely on any centralized party, making them truly decentralized and aligned with the whole ethos of DeFi.
UST uses Terra's native token, LUNA, to maintain its peg. When UST is worth more than $1, new tokens of the stablecoin are minted, increasing its supply. The proceeds of this minting are used to buy and burn LUNA tokens. Conversely, when UST's value dips below $1, newly minted LUNA tokens are sold to purchase UST tokens and take them out of circulation. While this defends the peg, the big selling wave of newly minted LUNA tokens causes its price to drop.
Over the weekend, UST slipped to around 99 cents. While that caused some negative buzz, it didn't seem like a huge cause for concern. But by Monday evening (US time), it had fallen to below 70 cents before plunging again to below 30 cents the next day, evaporating investors' confidence in the Terra project. That, along with its algorithmic link to the stablecoin, caused LUNA – a blue-chip DeFi crypto that was once among the top ten biggest coins in the world – to get wiped out: it plunged by virtually 100%. What an epic collapse: at its peak, LUNA's market cap was over $40 billion…
The depegging appeared to be linked with a series of major withdrawals – that eventually morphed into an outright bank run – from Anchor Protocol, a decentralized lending/borrowing market that offers yields of close to 20% to users who deposit UST. At the start of last weekend, Anchor's total UST deposits stood at 14 billion. By mid-week (so on Wednesday), they stood at less than 4 billion. Coincidentally, the US Federal Reserve's semi-annual Financial Stability Report, which was published on Monday, included a warning that stablecoins are vulnerable to runs. That's exactly what happened with UST and Anchor…
There are some important lessons investors can take away from this entire episode. First, stablecoins are not entirely risk free – especially algorithmic ones. Second, any promised returns that look too good to be true probably are. Virtually all of the demand for UST came from investors wanting to earn the high interest rate offered by Anchor. And almost everyone in the crypto world was recommending it. After all, 20% interest on your dollars beats anything you'll find in the traditional finance world. But those same investors are now nursing some serious losses after the UST depeg.
Third, always watch out for contagion in crypto markets. The Luna Foundation Guard (LFG), which oversees UST, added billions of dollars worth of bitcoin as collateral for the stablecoin in recent months, further entwining the project with the very core of the crypto market. The LFG sold huge amounts of bitcoin this week to defend the UST peg, which exacerbated bitcoin's sell-off. What's more, the entire drama dented investors' confidence in the entire crypto market, causing many other coins to plunge too.
Fourth, even the most promising crypto projects have massive risks. Up until now, Terra was widely considered as a blue-chip DeFi crypto project. But this event rattled Terra's reputation and wiped out its entire market value – and highlighted the importance of diversifying your crypto bets. Finally, expect this to play into regulators hands. Treasury Secretary Janet Yellen has already said that the UST depegging episode highlighted the need for a regulatory framework for stablecoins.
Next week
Both the US and China will update retail sales and industrial production figures for April, providing insights into second quarter GDP performances. In China, retail sales are predicted to have slipped by 6% in April compared to the same time last year, on the back of the country's strict zero-Covid policies. Meanwhile, UK inflation and labor market data for April will be released next week to add clues as to the challenges facing the Bank of England. In Asia, the big one on the agenda is Japan's first-quarter GDP report.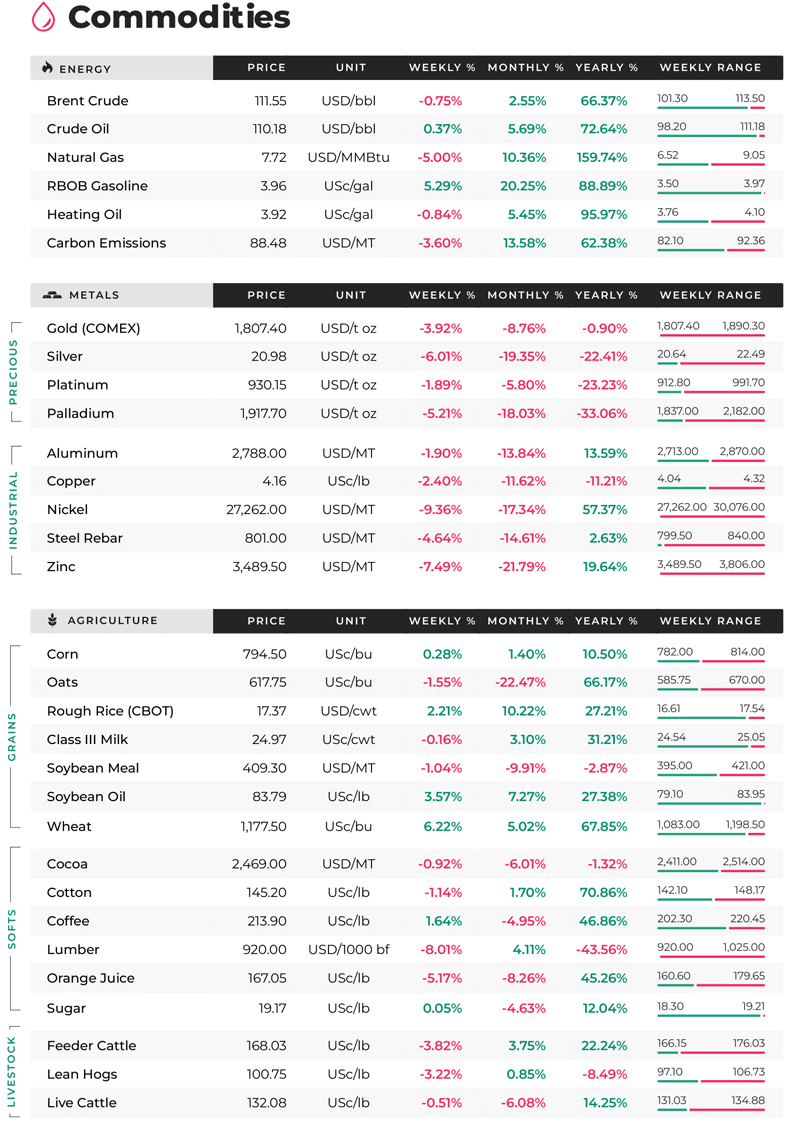 General Disclaimer
The information and data published in this research were prepared by the market research department of Darqube Ltd. Publications and reports of our research department are provided for information purposes only. Market data and figures are indicative and Darqube Ltd does not trade any financial instrument or offer investment recommendations and decision of any type. The information and analysis contained in this report has been prepared from sources that our research department believes to be objective, transparent and robust.
Distributed by Profit.com, United Kingdom.
All images and logos are trademarks of their respective owners.
Sign In to Profit.com
Don't have an account?
Sign Up