Space: The final frontier
Sir Richard Branson pushed the limits and broke away from clichés in his entrepreneurial career. Last week he reached an ultimate boundary by rocketing towards the edge of space. With this success, Virgin Galactic, Branson's firm, inaugurated the era of space tourism. This endeavour carries more meaning than a simple leisure service for eccentric wealthy people. It marks the beginning of a new tech revolution. Will space technology be the next big revolution?
Space technology was until recently the exclusive playground of governmental agencies. Then, RedBull and Elon Musk's SpaceX brought a paradigm shift in the space tech arena. Private companies showed that they are capable of delivering robust solutions for travelling to outer space.
Virgin Galactic pioneered commercially operational suborbital space tourism. But before Branson's historical leap, another billionaire had the ambition to follow the path opened by Gagarin several decades ago. Bezos' space company, Blue Origin, appeared in pole position in the race of private companies to conquer space. The markets saluted briefly Virgin's success but conceded the peak when investors realised that there is a long way to go until the company becomes profitable.
Both Branson and Bezos are visionaries, and their involvement in space tech is more than a glorified hobby. We are currently living in a fast-paced digital revolution, aiming to bring progress, prosperity, and equity worldwide. But, humanity's conquest will not end, and the next revolution may well be related to outer space. Space technology could be the next big thing three decades from now. Virgin Galactic and Blue Origin may represent for space technology what IBM meant for the digital world.
To all you kids out there — I was once a child with a dream, looking up to the stars. Now I'm an adult in a spaceship...If we can do this, just imagine what you can do. Richard Branson, English entrepreneur
Market overview
The rampant increase in the US inflation observed since the beginning of the year is the main factor of interest for the market's future evolution. Treasury Secretary Janet Yellen indicated that inflation could persist for several more months. A decrease in inflation could therefore occur towards the end of 2021. The Dow Jones kept the momentum built over the past week and managed to climb above the psychological mark of 35,000.
Bitcoin entered into negative territory, finishing the week below the mark of 32,000 USD.
Cryptocurrencies:
DOGE
More than three months after Elon Musk's tweets propelled Dogecoin to unsustainable levels, it seems that the emerging Altcoin is fading slowly but surely into the abyss. Dogecoin seems to saw off the branch it is sitting on. Jackson Palmer, one of the cofounders of the controversial Altcoin, declared recently that the cryptocurrency arena "is an inherently right-wing" and is "controlled by a powerful cartel of wealthy figures" and labelled it a "cult-like 'get rich quick' funnel designed to extract new money from the financially desperate and naive". Needless to say, such statements do not attract investors' appetite in Dogecoin.

Focus:
Netflix
Netflix' share surfed on a vigorous wave of optimism, its prices climbing by more than 15% over the past month. Netflix and other content platforms are taking at a fast pace over Hollywood. Leading production firms like Paramount, Miramax or Universal are shaken down by the emerging tech companies. Nevertheless, there is still unleashed growth potential for Netflix.
Investors delivered positive answers to Netflix's expansion strategy in the gaming industry. Netflix aims to expand its viewers base. To succeed in this endeavour, Netflix plans to touch the vast gaming community by offering video games through its streaming platform.
Both content production and video games have strong growth perspectives. Moreover, synergies between Netflix's different product lines could bolster its stock price in the long run.
Forex:
Euro / USD
The Euro /USD is at crossroads and evolved over the recent week without a precise direction. Since mid-June, the US dollar moved into positive territory, but its momentum slowed significantly. Moreover, September will bring a "hardness test" for the leading currency, as most governmental COVID support schemes will reach an end.
Focus:
HSBC
The fourth wave of the pandemic brought a new lockdown for Hong Kong's residents. It is not the only bad news for the special administrative region of the People's Republic of China. The Biden administration takes significant actions against China's pro-democracy crackdown. Beijing Communist Party is in the process of exerting increasing control over Asia's leading financial hub. Washington raised red flags for US companies operating in Hong Kong, suggesting that they may remain isolated in terms of access to financial services offered by US Banks.
Hong Kong is HSBC's stronghold and the Far East is its vital source of profit. However, the White House's actions are sparking serious worries for the leading bank, which could subsequently hamper its business. HSBC's share price declined consistently over the past month, indicating that investors foresee turmoil for the London-headquartered lender.
Market outlook
As predicted, the Dow Jones Index soared over the last trading sessions above the 35,000 mark. This record amid a relatively low volatility environment reduces the likelihood of a significant market correction in the short term. Nevertheless, the perspective of non-transitory inflation and a new wave of coronavirus infections could put investors in a risky spot.
Bitcoin's price plunged below 32,000, signalling the beginning of a new bearish cycle.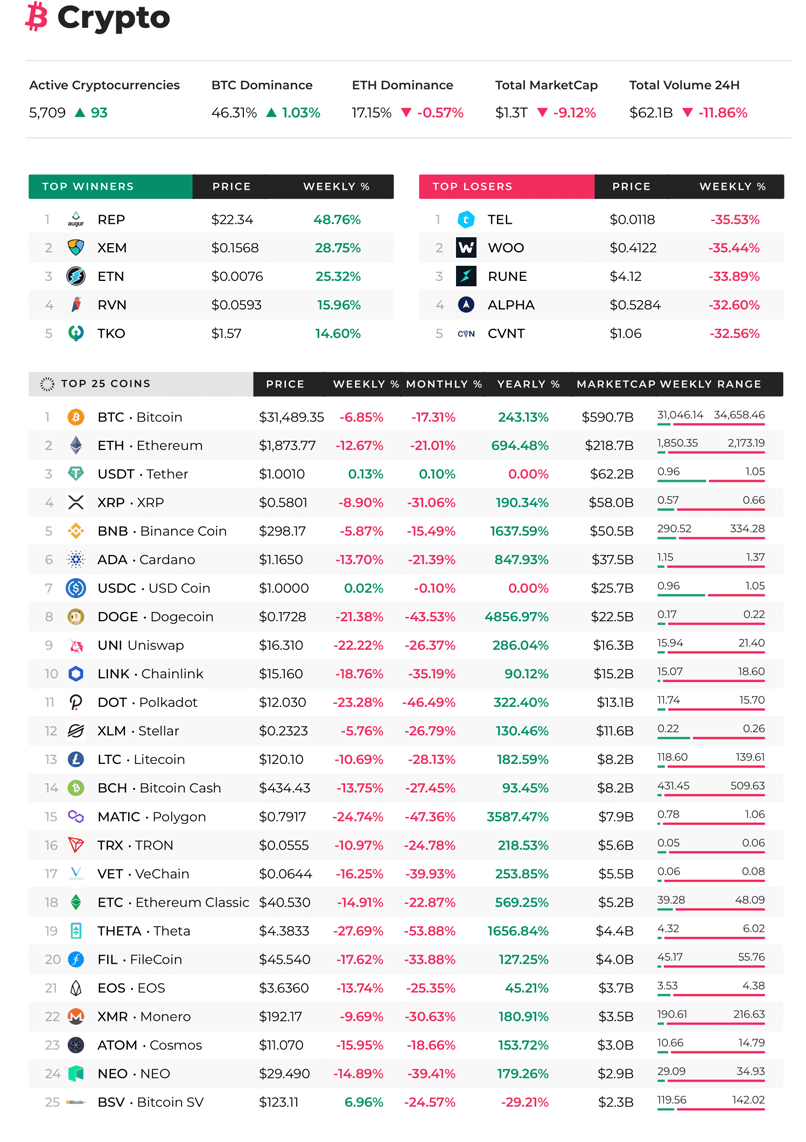 General Disclaimer
The information and data published in this research were prepared by the market research department of Darqube Ltd. Publications and reports of our research department are provided for information purposes only. Market data and figures are indicative and Darqube Ltd does not trade any financial instrument or offer investment recommendations and decision of any type. The information and analysis contained in this report has been prepared from sources that our research department believes to be objective, transparent and robust.
Distributed by Profit.com, United Kingdom.
All images and logos are trademarks of their respective owners.
Sign In to Profit.com
Don't have an account?
Sign Up