All eyes were on the latest inflation figures out of the US this week. And what did we get? Surprise surprise: another 40-year high. That'll push the US Federal Reserve to stick to its aggressive rate hiking campaign or to consider going even faster – with a 100bps hike at its next meeting, for example. The prospect of more aggressive rate hikes sent the dollar rallying and, for the first time in 20 years, it reached parity with the euro. That might be good for American tourists in Paris ("Bonjour Y'all"), but it's worsening the eurozone's inflation problem. Find out why.
Macro
Data out on Wednesday showed US inflation accelerated last month to a fresh 40-year high. Consumer prices increased by 9.1% in June compared to a year ago, higher than the 8.8% economists were expecting and a marked acceleration from May's 8.6%. What's more, consumer prices increased by 1.3% on a month-to-month basis, the most since 2005. The usual culprits were at play: higher gasoline, shelter, and food costs. But even core inflation, which strips out more volatile food and energy components, came in higher than expected. All in all, the data will most likely keep the Fed on its path of aggressive rate hikes. But the higher and faster the Fed goes, the higher the risk of a potential US recession, which several economists see in the next 12 months.
The higher-than-expected inflation data also helped push the euro to a fresh 20-year low relative to the dollar. In fact, Europe's common currency is now at parity with the greenback. That's when $1 = €1, which is a far cry from the $1.15 the euro was trading at just in February.
There are a few reasons why this has happened. First, the dollar has appreciated significantly against virtually all major currencies this year on the back of the Fed's most aggressive rate hiking campaign in decades. Higher interest rates, after all, make the dollar more appealing to international savers and investors, pushing up its value. The European Central Bank, meanwhile, has yet to increase interest rates.
Second, the euro has been hit this week by rising fears that Russia is going to again cut its natural gas exports to Europe. That would cause energy prices to spike, denting consumer spending and industrial output and ultimately triggering a recession in the region. The prospect of lower (or negative) economic growth leads to a weaker currency.
Now here's a big problem: a weaker euro will add to the inflation pressures facing the region, thanks to imported inflation. For example, Europe depends on oil and natural gas imports for most of its energy needs. These commodities, like most others, are priced in dollars. So as the euro sinks toward dollar parity, the cost of the region's energy imports are set to rise. Put simply, Europe is caught in a vicious circle: higher energy prices are hurting the region's economy, driving the euro lower. In turn, a weaker euro makes energy imports even more expensive.
The negative outlook is already being reflected in official economic forecasts. Just look at the latest projections by the European Commission released on Thursday. The European Commission now sees GDP growth at 1.4% in 2023, down from a May projection of 2.3%. It also raised its inflation estimate to 7.6% this year, versus the previous 6.1%. That's a far cry from the European Central Bank's official target of 2%.
Stocks
Wall Street banks officially kicked off the US earnings season this week. JPMorgan's second-quarter profit fell by a worse-than-expected 28% after adding $428 million to its reserves for potentially bad loans. JPMorgan's CEO, Jamie Dimon, warned that geopolitical tensions, high inflation, and waning consumer confidence could hurt the economy "sometime down the road". That might be why the bank also suspended its share buybacks in a bid to shore up its regulatory capital.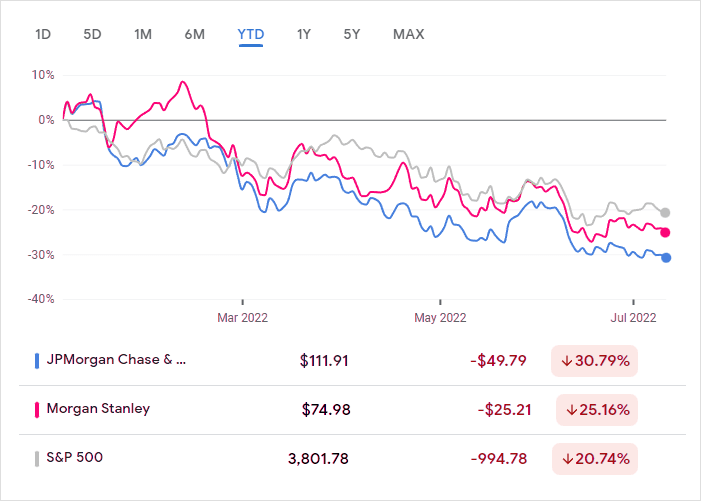 Things weren't much different at Morgan Stanley: its second-quarter profit fell by a worse-than-expected 29%. The bank relies more on dealmaking for its revenues compared to other Wall Street firms, and so was hit harder by the sharp drop-off in debt and equity issuances this year. So much so that Morgan Stanley's investment banking revenues slumped by a worse-than-expected 55% last quarter.
Commodities
Copper was once an investor favorite because of its tight supply and use in fast-growing green technologies, like EVs. But the red metal's price has slumped by more than 30% since its March peak. And this week it lost one of its most influential cheerleaders: Goldman Sachs cut its copper price forecast to $6,700 a ton, versus an earlier prediction of $8,650. The investment bank anticipates a big drop in consumer spending and industrial activity as Europe's energy crisis deepens, both of which would weigh on copper demand. The metal is often seen as a bellwether of the world economy, after all, and we all know about the dark economic clouds lurking in the background…
Crypto
Wall Street is far from bullish on bitcoin: according to a survey of 950 institutional investors, 60% of them think the world's biggest crypto is going to tumble to $10,000, cutting its value in half. The other 40% saw it going the other way, increasing to $30,000. The survey's results show how bearish investors have become toward the crypto sector after a string of bad news this year, from collapsing projects (like Terra Luna) to failing DeFi lenders (like Celsius, which filed for bankruptcy on Thursday). All in all, around $2 trillion has vanished from the market value of cryptocurrencies since late last year.
The bearishness is spreading to the venture capital (VC) market too: new data out this week showed VC funding to crypto startups fell to a one-year low last quarter. The hype around crypto startups made the sector seem somewhat immune to economic turmoil after it attracted a record of nearly $10 billion of VC funds in the first quarter. But things in the VC world happen with a lag: lots of the deals that closed in the first quarter were being discussed towards the end of 2021. So the second-quarter data paints a more accurate picture of the VC markets' appetite toward the crypto sector this year, and it's safe to say that it's fading: VCs invested "just" $6.8 billion into crypto startups, a 31% decline from the previous quarter.
Next week
Second-quarter earnings season continues in earnest next week. Some big-name financials reporting include Bank of America, Goldman Sachs, and American Express. They'll be joined by some big tech names like Snap, Tesla, and Netflix. Expect investors to be particularly focused on Netflix after its disappointing update last quarter where the streaming giant reported it lost subscribers for the first time in more than 10 years. On the economic front, all eyes will be on the European Central Bank, which is expected to hike interest rates for the first time in more than a decade.
General Disclaimer
The information and data published in this research were prepared by the market research department of Darqube Ltd. Publications and reports of our research department are provided for information purposes only. Market data and figures are indicative and Darqube Ltd does not trade any financial instrument or offer investment recommendations and decision of any type. The information and analysis contained in this report has been prepared from sources that our research department believes to be objective, transparent and robust.
Distributed by Profit.com, United Kingdom.
All images and logos are trademarks of their respective owners.
Sign In to Profit.com
Don't have an account?
Sign Up