Why 2020 will not be 2017?
2020 brought a fulminant start for Bitcoin and most of Altcoin. Many are those believing that we will witness another 2017 pattern with prices reaching the maximum historical level. 2020 is not 2017 for many reasons. First, 2017 was a bubble created by a mass-hysteria around crypto-currencies and the belief that Bitcoin may be the new Holy Grail that could free the slaves of the post-modern capitalism.
Second, Bitcoin became more transparent in terms of available information and it is not anymore an obscure instrument as it was back in 2017.
Last, but not least the current Bitcoin market is more mature and better crystallized. The different segments of liquidity are stable and there is a solid base of crypto-investors participating in the price discovery process. To repeat the 2017 exponential raise, a fresh inflow of liquidity and a new generation of long-term investors would be needed. But, in reality, those investors would be more than simple Bitcoin holders, they should be believers capable to spread the word and change the traditional views about old money.
Market review
Over the past week, Bitcoin continued its bullish rally started early this year and tested the 9,000 USD resistance level. The momentum created amid the US-Iran conflict managed to form a trend, a fact confirmed by the MACD indicator. The Bitcoin price lost some ground at the end of the week due to technical sales from those who wanted to lock-in the profits for the rally.
The Altcoins remained in positive territory pushed by the Bitcoin positive trend, Ether, for instance, outperforming Bitcoin. Ether's price is slightly above the parabolic SAR level, but the gap is not big enough to underline a strong long-term trend.
Moreover, the relative strength index (RSI) indicates that Bitcoin, as well as Ether, may be overbought and further corrections are envisaged over the next week.
Moreover, the perspective of additional US sanctions against Iran brought in the market a significant number of speculators. They are assuming that Bitcoin would be used for money transfers between Iran and the rest of the world when the American sanctions will add more restrictions and surveillance for banks dealing with Iran and related countries.
This hypothesis is supported by the recent announcement of the Qatar Financial Centre Regulatory Authority stating that all financial services involving cryptocurrencies became illegal in the country. Qatar, once seen as a pioneer in adopting cryptos and blockchain technologies fears that with the conflict escalation in Iran and the potential resurgence of terrorism in Irak, cryptocurrencies may become the main vehicle for laundering funds and financing terrorism.
Meanwhile…
Bitcoin Satoshi Vision seems Visionless‍
As we anticipated last week, Bitcoin SV lost massively altitude after a one month rally accounting for a substantial 320% increase that pushed the price above 415 USD. But, this bubble is highly speculative and it seems that the price was seriously pumped by few speculators that spread the news that a certain Craig Wright may sit on a big stash of Bitcoin. Craig Wright is caught in an ongoing court battle in the United States and as a consequence, many documents are revealed to the public.
The self-proclaimed Bitcoin inventor, Satoshi Nakamoto's alter ego confirmed a few days ago through official sources that do not possess nor even claim to possess the access to the 8 billion USD of Bitcoin mined in the Bitcoin's early days. The announcement brought havoc on the BSV market and the price plunged by over 40% falling below 250 USD in only two days.
Tether navigates in murky waters‍
Tether (USDT), the stable-coin aimed to trade at parity with the dollar is currently facing three class-action lawsuits filled in New York and Washington. Tether, alongside related exchange Bitfinex, is accused of wrongdoings, one of which may have been caused the 2017 bubble on Bitcoin.
Cryptocurrencies gain territory in the online gambling sector‍
The online gambling market is a fast pace growth sector expanding at a rate of about 13.2 percent. Europe has the largest market share and is followed closely by North America and Asia and Australia. Crypto-currency gambling website started to gain market share over more conventional fiat-currency based gambling platforms. They use Facebook, Instagram, and YouTube to reach out to new customers. It is expected that the crypto-currency online gambling to experience strong growth in the following years.
Market outlook‍
Bitcoin appears as overbought as it followed a steady positive trend over the past month. Market corrections are expected in the short term on the main crypto-currencies, as the momentum initiated by the US-Iran conflict may lose steam, thereby implying the beginning of a bearish trend. 2020 will be without an unstable environment and the volatility on crypto-currency may increase rampantly from the second quarter. BSV should further retreat towards the support level of 200 USD, following a volatile trajectory.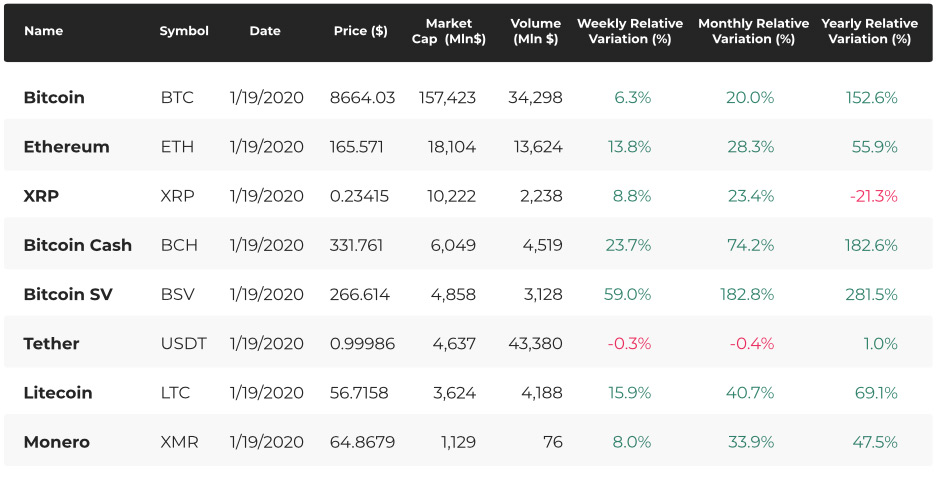 General Disclaimer
The information and data published in this research were prepared by the market research department of Darqube Ltd. Publications and reports of our research department are provided for information purposes only. Market data and figures are indicative and Darqube Ltd does not trade any financial instrument or offer investment recommendations and decision of any type. The information and analysis contained in this report has been prepared from sources that our research department believes to be objective, transparent and robust.
Distributed by Profit.com, United Kingdom.
All images and logos are trademarks of their respective owners.
Sign In to Profit.com
Don't have an account?
Sign Up