This week saw important economic data coming out of China, while two major financial institutions – the IMF and World Bank – lowered their global growth forecasts. Earnings season continued, with Netflix's epic plunge one of the biggest stories of the week. What caused the drop, and what valuable warning signs does it offer investors in the current market environment?
Macro
Chinese GDP data out this week showed the world's second-largest economy grew by 4.8% in the first quarter of 2022 compared to the same period last year. The good news is that the 4.8% figure was higher than the 4.4% economists were forecasting and it marked an acceleration from the fourth quarter's 4.0%. The bad news is that it's a poor start toward achieving the government's full-year growth target of about 5.5%.
The other bad news is that the GDP release doesn't capture the full extent of the economic damage resulting from the government's sweeping Covid lockdowns, since they only began in the middle of March. So to get a more timely reading on the economy, look no further than the latest retail sales data also released this week. It didn't paint a pretty picture: retail sales fell by a more-than-expected 3.5% in March compared to a year ago – the biggest decline in consumer spending since the early months of the pandemic.
With virus outbreaks showing no signs of ending and the Chinese government doubling down on its "Covid Zero" approach, the country's economy – which plays an important role in fueling global growth – is arguably headed for trouble in the second quarter. What's more, the country's strict Covid policies are negatively impacting supply chains all over the globe. Both of these issues add to the growing list of risks – which includes rising interest rates, soaring commodity prices, and the Russia-Ukraine conflict – facing the global economy.
Speaking of which, two major financial institutions lowered their global growth forecasts this week. The World Bank now sees the global economy growing by just 3.2% this year, down from an earlier estimate of 4.1%. The lower forecast – significantly slower than 2021's expansion of 5.7% – was mainly spurred by a cut in the outlook for Europe and Central Asia after Russia's invasion of Ukraine. The IMF, meanwhile, slashed its global growth forecast by the most since the early months of the Covid pandemic – and projected even faster inflation – mainly due to China's renewed lockdowns and the outbreak of war. The institution now reckons global expansion will slow to 3.6% in 2022, down from a forecast of 4.4% in January.
Stocks
Netflix's shares collapsed 35% on Wednesday after the company reported it lost subscribers for the first time in more than 10 years. Coming into the update, investors were expecting Netflix to add 2.5 million subscribers during the first quarter – in line with what the company had previously guided for. But it lost 200,000 instead. Ouch. And in renewed guidance, Netflix said it expects to lose another 2 million subscribers this quarter – a far cry from the 2.4 million additions analysts were forecasting. Double ouch. After Thursday's plunge, Netflix's P/S ratio sits at a seven-year low of 3x, which also represents a 30% discount to the Nasdaq 100's P/S.
What caused the drop, you ask? First, increased competition from the likes of Disney and HBO Max. Second, password sharing: Netflix estimates there are more than 100 million people using the service without paying for it. Third, Netflix's suspension of its services in Russia resulted in a loss of 700,000 subscribers. Fourth, soaring costs for life's necessities – like food, electricity, and gas – are pushing people to cut back on life's luxuries – like streaming services.
Netflix's tumble offers two valuable warning signs to investors in the current market environment. First, it confirms the folly that many investors were pricing pandemic-winner stocks on the implicit assumption that lockdown behavior would continue forever. Netflix's stock was a great place to hide your money during the pandemic, but it was never a great idea to assume that its strong growth would continue forever.
Second, the stock's plunge shows just much of Netflix's value was locked in the future. It's a classic "long-duration" stock – that is, it's very sensitive to interest rate changes as well as slight changes in future growth assumptions.
In other news, at least investors can celebrate one drama-free earnings update: Tesla reported better-than-expected results on Wednesday, with first-quarter revenue and profit both topping expectations thanks to strong demand for its EVs as well as a higher average selling price. And despite supply-chain issues and Covid-related shutdowns at its factory in Shanghai, the firm said it's on track to produce more than 1.5 million vehicles this year, implying more than 60% growth from 2021's levels (the firm's stated goal is to grow production by 50% on average annually). Tesla's shares initially soared 7% after the results update.
One thing helping Tesla – and the wider industry – is higher petrol prices, which have made EVs even more sought after. And that's despite EV prices rising this year on the back of soaring battery costs after key EV battery metals – like lithium, nickel, and cobalt – shot to multi-year highs. In fact, lithium prices are up 18x over the past decade. That might be why Elon Musk hinted last month that Tesla may get into the lithium mining and refining business directly and at scale. Such a move could lower Tesla's cost of procuring lithium and, ultimately, lower its cost of production.
Commodities
Shipping US liquefied natural gas (LNG) to Europe is a win-win situation: it supports America's shale industry while allowing Europe to replace its imports of Russian natural gas. But it's also creating a headache: as the American gas market becomes more connected with Europe's, the price problems there are crossing the Atlantic. Case in point: benchmark US gas prices surged to a 13-year high on Monday.
Crypto
Coinbase launched its long-awaited social NFT marketplace on Wednesday. The service, which looks like a cross between Instagram and OpenSea, is still in beta and is only available to a small number of users. The launch could be the answer to Coinbase's growth problems, but comes at a time when NFT trading volumes are nosediving. Sales on OpenSea, the world's biggest NFT marketplace, are down 67% over the past 30 days, according to DappRadar.
But there's another narrative worth considering: Coinbase rolling out its NFT marketplace could grow the entire market and boost trading volumes. You can begin to understand why when you consider these two statistics. First, according to the Financial Times and Chainalysis, there are only around 360,000 wallets holding NFTs. Second, Coinbase has 89 million global users, 11.4 million of who were monthly active users as of the end of 2021.
Next week
Earnings season continues with full investor focus on Big Tech: Microsoft, Alphabet, Apple, Meta, and Amazon are all scheduled to report next week. These tech giants collectively represent a huge chunk of the US stock market's value, so their earnings updates will have big implications on the wider market. They'll also be joined by Twitter, which is engaged in a takeover battle with Elon Musk. On the economic front, US GDP figures are out on Thursday followed by Germany's the next day.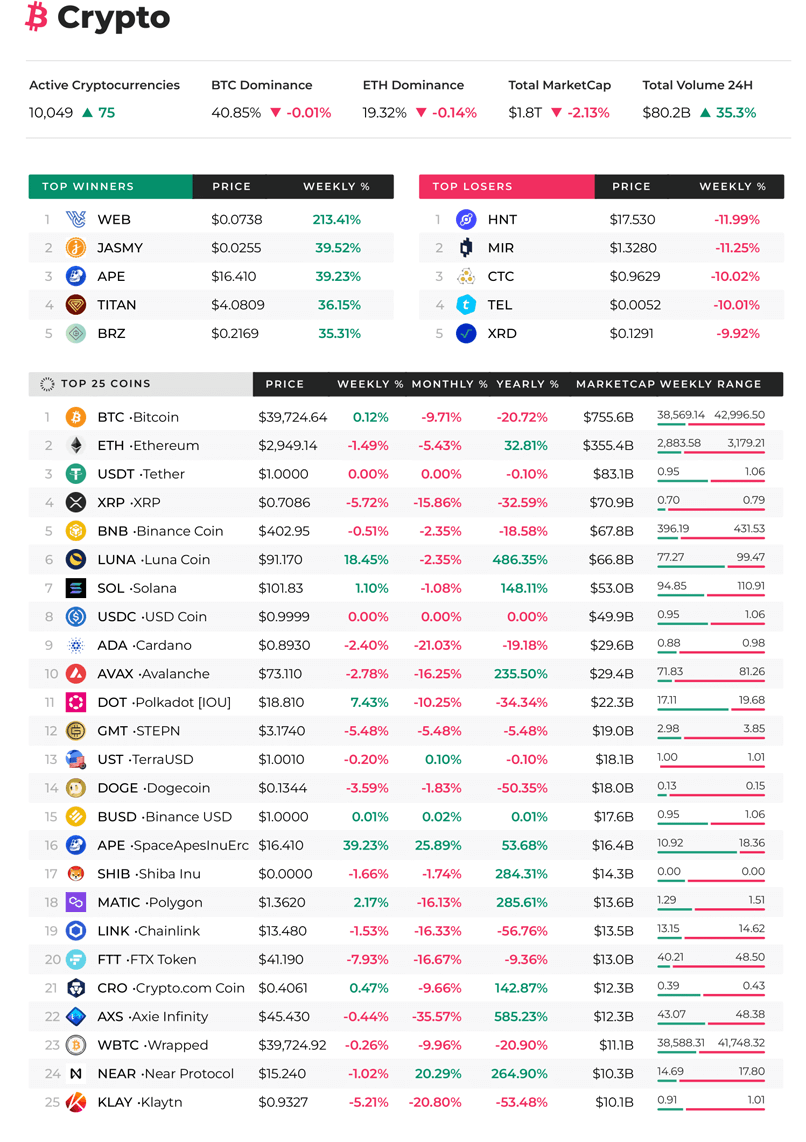 General Disclaimer
The information and data published in this research were prepared by the market research department of Darqube Ltd. Publications and reports of our research department are provided for information purposes only. Market data and figures are indicative and Darqube Ltd does not trade any financial instrument or offer investment recommendations and decision of any type. The information and analysis contained in this report has been prepared from sources that our research department believes to be objective, transparent and robust.
Distributed by Profit.com, United Kingdom.
All images and logos are trademarks of their respective owners.
Sign In to Profit.com
Don't have an account?
Sign Up