COP26: A tale of markets and climate change
World's leaders are gathering next week in Glasgow to find common ground regarding the stringent issue of climate change. The previous editions of the United Nations Climate Change Conference made a lot of noise but had little impact. Since the Kyoto conference, policymakers have been trying to find the proper framework to help the financial market serve the cause of climate change. Will COP26 be a game-changer for climate actions?
There is currency inflation, but there is also inflation in temperature, which started 150 years ago. The planet is getting hotter every year, the average temperature being excited to increase by over 2.5% per century. Furthermore, the current energy crisis amplifies fossil consumption. Consequently, European carbon allowances (EUA) prices reached new records, thereby being the best performing commodity over the past three years.
What could we expect from COP 26? In theory, one cannot expect significant actions from such an event, as long as China and India will not actively change their view concerning carbon emissions. Nevertheless, the conference would most likely enact several policies aiming to boost the low-carbon and environmental investments:
First, the ESG investments should be added to the roadmap of long term actions aiming to curb the effect of climate change,
Second, COP 26 should create a dedicated framework and give a special status to Green Bonds. Quantitative easing policies could serve to boost the Green Bonds investment.
Last but not least, a global Voluntary Carbon Market is much needed to unify all efforts for reducing CO2 emissions.
The world - this precious blue sphere with its eggshell crust and wisp of an atmosphere - is not some indestructible toy, some bouncy plastic romper room against which we can hurl ourselves to our heart's content. Daily, weekly, we are doing such irreversible damage that long before a million years are up, we will have made this beautiful planet effectively uninhabitable - not just for us but for many other species. And that is why the Glasgow COP26 summit is the turning point for humanity. Boris Johnson, British Prime Minister
Market overview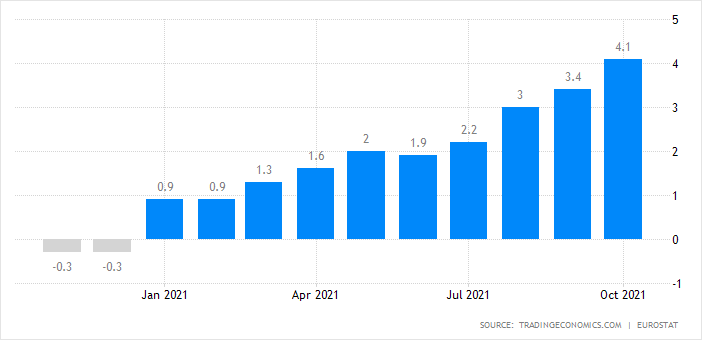 The Dow Jones Industrial Average delivered a new record closing high on Friday surfing near the 36,000 mark. The stock markets are bullish, while inflation becomes ubiquitous. The annualised Eurozone inflation for October reached 4.1%, the highest level over the last year. Stock indices show, in reality, the level of currency devaluation rather than the appreciation of the real economy.
Focus:
Gilead
In the early days of the coronavirus pandemic outbreak, when the unusual flu petrified the entire planet, all hopes were on Gilead's remdesivir. Investors rushed to inject money into the Californian biotech firm amid a massive market contraction. After eighteen months, the initial momentum faded away with the arrival of the vaccine. The fourth wave of the pandemic hitting countries with high vaccination rates brought new interest for Gilead, which announced higher-than-expected third-quarter earnings on strong demand for its COVID-19 antiviral treatment. While Remdesivir should generate USD 21.5 billion per year in sales for Gilead, the non-COVID drugs have a lesser demand.

Focus:
Merck
Merck's share price jumped 6.1% after publishing its quarterly earnings, which showed strong sales. Merck's monupiraivir seems to be the red pill amid a global narrative blue pilled by the postulate that vaccination will put an end to the pandemic. Merck's drug is still awaiting final approval from the US and EU authorities. Nevertheless, the firm started to scale up its production operations. While Merck is surfing on optimism, its main competitors, Roche and Pfizer, are testing their antiviral pills for COVID-19 treatment. Such development could alter the strong growth of molnupiravir sales.
Focus:
Digital World Acquisition Corp
Digital World Acquisitions Corp (DWAC) is the name of the SPAC backing Trump's highly publicised social media platform. Twitter, Facebook and Youtube have all banned the content of the 45th President. In an attempt to connect with his supporters and prepare a comeback on the political scene for the 2024 election, Trump builds his own platform called Truth Social. Investors seemed to have received with enthusiasm his initiative, and DWAC's share price bolstered in the first hours of its listing. Most likely, the next step for Trump will be to build his own cloud-solution company to harbour his new platform.
Crypto:
Shiba Inu
Shiba Inu is another meme-based coin that made the fortune of many crypto-speculators over the past months. Shiba-Inu mimicked Dogecoin, an obscure coin that soared to notoriety after being backed by Tesla's tycoon Elon Musk. However, most digital coins bring very little value in the space of cryptocurrencies, other than being underlying for speculation and market manipulation scams. As soon as a hotter meme coin appears, Shiba could easily lose momentum.
Market outlook
The Dow Jones Index ended the week on a bullish trend, surfing above 35,800. Unfortunately, the market does not price in the unforeseen consequences of non-transitory inflation.
Bitcoin ended the week above USD 61,000 after a short descent ner USD 59,000.
The energy crisis triggered by a bubble in power, gas, and coal prices impacts oil prices. Thus, there are sound reasons to believe that Brent could climb above 100 USD in 2022.
The Gold ounce ended the week on a negative note closing above the USD 1,780 mark. Prices could rebound because investors are giving signs of interest amid a long run inflationary context.
General Disclaimer
The information and data published in this research were prepared by the market research department of Darqube Ltd. Publications and reports of our research department are provided for information purposes only. Market data and figures are indicative and Darqube Ltd does not trade any financial instrument or offer investment recommendations and decision of any type. The information and analysis contained in this report has been prepared from sources that our research department believes to be objective, transparent and robust.
Distributed by Profit.com, United Kingdom.
All images and logos are trademarks of their respective owners.
Sign In to Profit.com
Don't have an account?
Sign Up